Award-Winning Collaborations: Mural for AllSteel
December 31, 2022
In addition to creating Branded Furniture for leading companies, MASHstudios designs innovative products for other furniture manufacturers. This year our design for Allsteel won Interior Design Magazine's Best of Year Award, as well as Best of NeoCon 2022 Silver and the Interior Design HiP Award.
Mural was designed to break the grid, offering greater flexibility to the end user. Mural offers a revolutionary way of arranging individual and collaborative areas with a movable base system that allows for quick modification or total rearrangement. It is a flexible system that allows end-users to create individual workspaces and unique team spaces, building office neighborhoods that are free-flowing spaces of productivity.
MASHstudios designed a range of components and accessories that can be added to the Mural framework to create a variety of functional and aesthetic configurations. This includes everything from privacy screens and storage units to work surfaces and seating options. The framework is constructed from high-quality materials and engineered to withstand the rigors of a busy office environment, ensuring the pieces will look great for years to come. The clean lines and modern design offer a sleek and sophisticated look while maintaining a personable vibe and scale.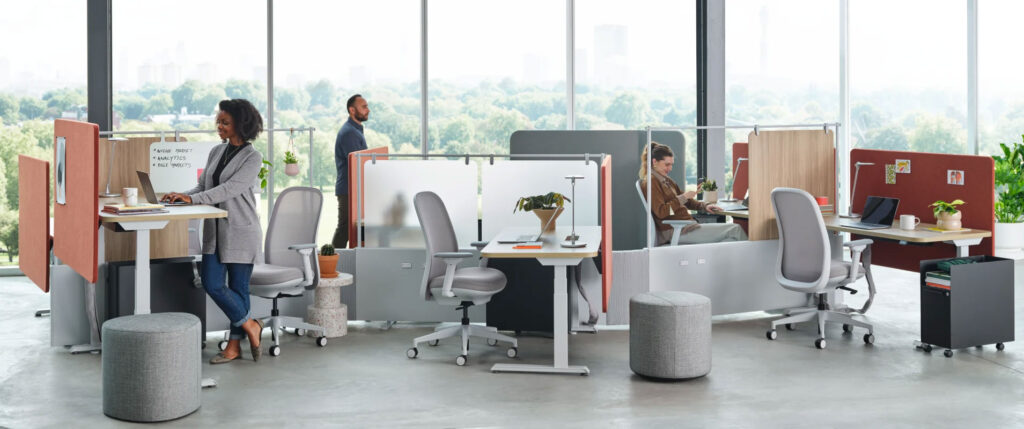 By creating flexible boundaries that suit the requirements of individuals and teams, Mural provides the workforce with an attractive and practical workspace design. Beyond just separating space, Mural adds character while adjusting to the evolving needs of people and the potentialities of the future.