Openness and Accessibility: The Broad Foundation and Family Offices
March 23, 2023
When The Broad Foundation and Family Offices relocated their headquarters to 1 Cal Plaza in Downtown Los Angeles, one block away from The Broad Museum, they wanted to design office spaces that reflected their work and values. They aimed to create an inviting and equitable space for their employees, visitors, and guests in the heart of Los Angeles' business district on Bunker Hill.
The Broad partnered with ShubinDonaldson and long-time family design consultant Jennifer Littke of SETSTUDIO to design their new offices. To realize their vision of a welcoming headquarters, the design team turned to MASHstudios to create custom workstations, private office furniture, and conference tables to promote a collaborative and inspiring work environment.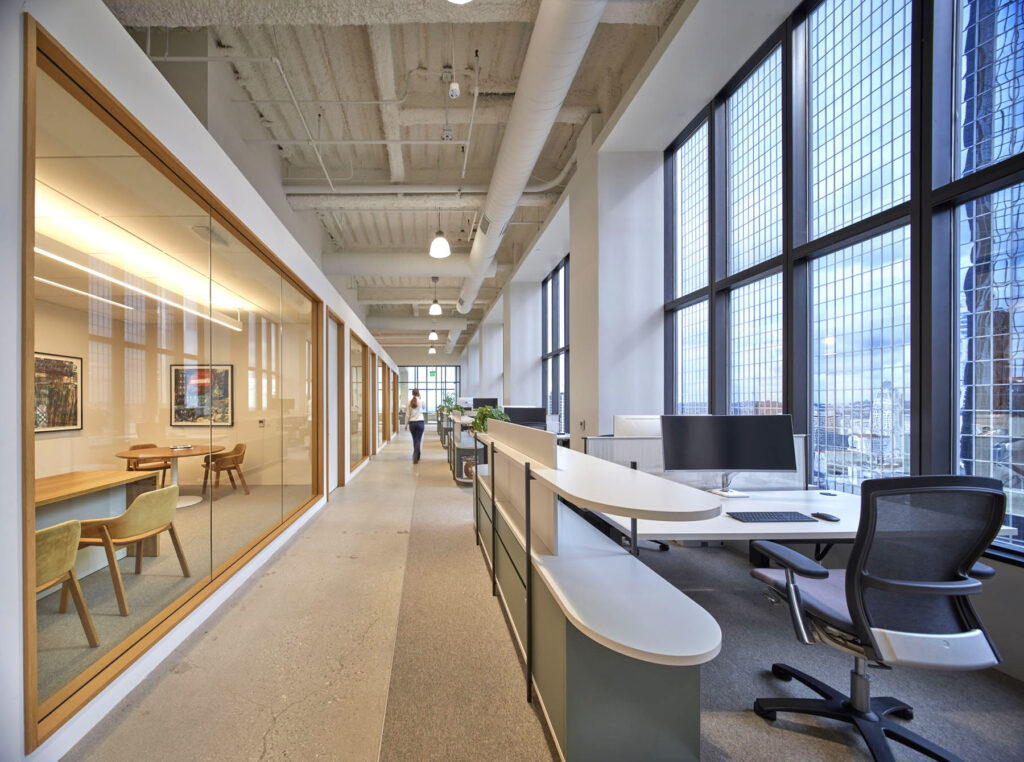 ShubinDonaldson and SETSTUDIO designed an Education Library to greet visitors to the new headquarters, a warm and inviting social space highlighting the Foundation's emphasis on education. The room features a textured palette of materials and a low coffered ceiling inspired by Le Corbusier and Charlotte Perriand's House for a Young Man. Fold-up windows connect the library to a kitchen space, creating a seamless transition between the two welcoming communal areas.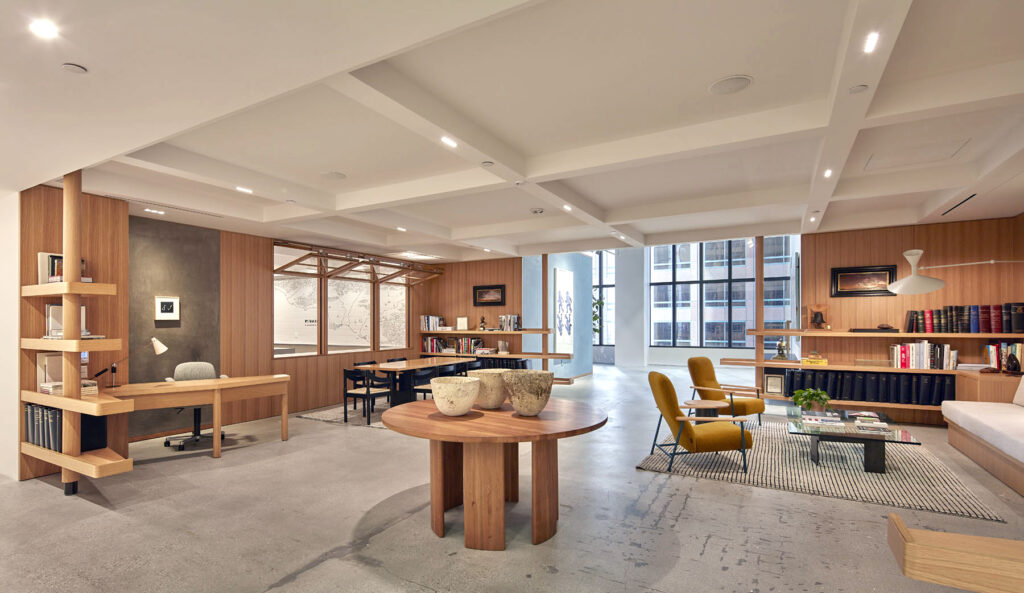 The architecture and design team needed a partner to develop custom office furniture to match their vision. Transparent private offices are at the center of the project, with open workspaces along the windowed perimeter, creating a bright and egalitarian office filled with natural light and stunning views of the Los Angeles skyline. The open spaces were also designed to display some of The Foundation's impressive art collection, with circulation spaces in the office also doubling as curated fine art galleries. MASHstudios designed custom pieces to match the architecture's clean, simple lines and elegantly detailed white oak trim.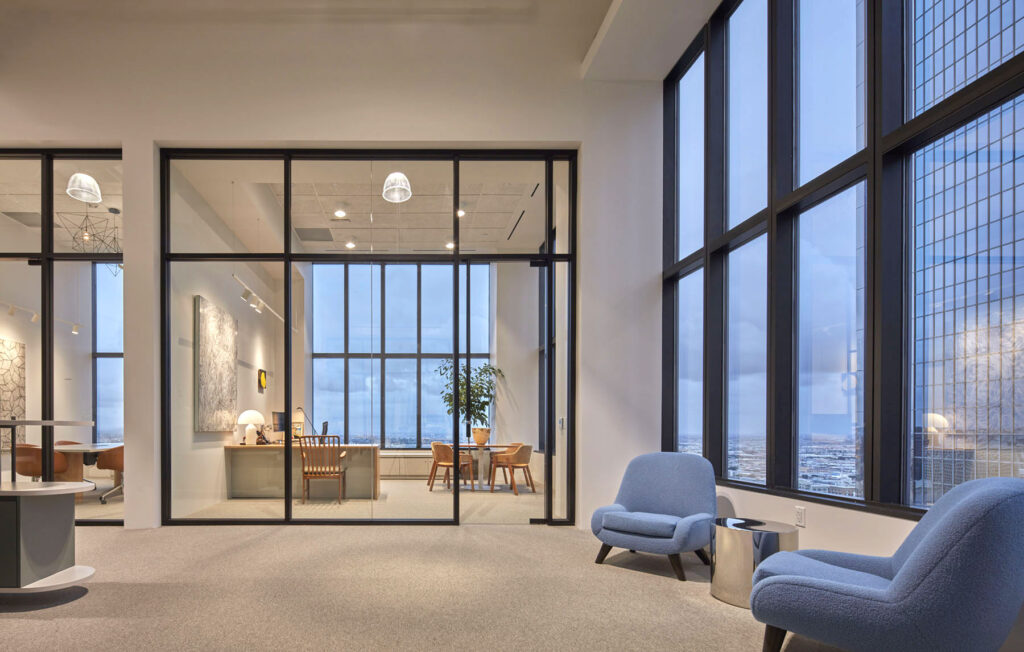 MASHstudios collaborated with the architect and interior designer to create a collection of custom pieces to complete Foundation's new headquarters:
The workstations feature height-adjustable, custom steel legs and power beam structures, with cream PLAM desktops with exposed birch plywood edges. A pencil drawer and sheer linen fabric divider panel add functionality and privacy. At the same time, the aisle credenza, which features hot rolled steel legs and pill-shaped shelves, provides additional space with integrated file storage. Round polyfelt divider panels add a touch of texture to the overall design.

The private offices have height-adjustable desks and fixed height returns in solid white oak, with a credenza unit that houses the printer. The executive office is similar in design, but with bench-height storage and a seating cushion for added comfort.

For the conference rooms, MASHstudios designed tables with cream PLAM tops and white oak veneered drum bases, which also have integrated power and data for added convenience. A cream PLAM credenza with a solid white oak top provides additional storage space while maintaining a cohesive design aesthetic.
MASHstudios' collaboration with ShubinDonaldson and SETSTUDIO resulted in a thoughtfully designed headquarters, creating a set of spatial experiences that promote the Foundation's dedication to openness and accessibility.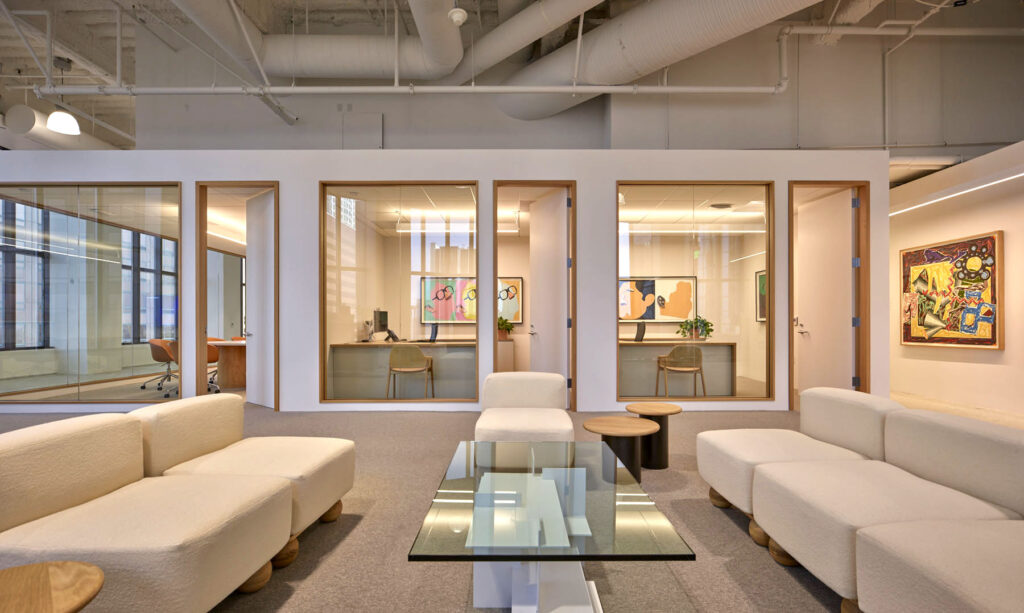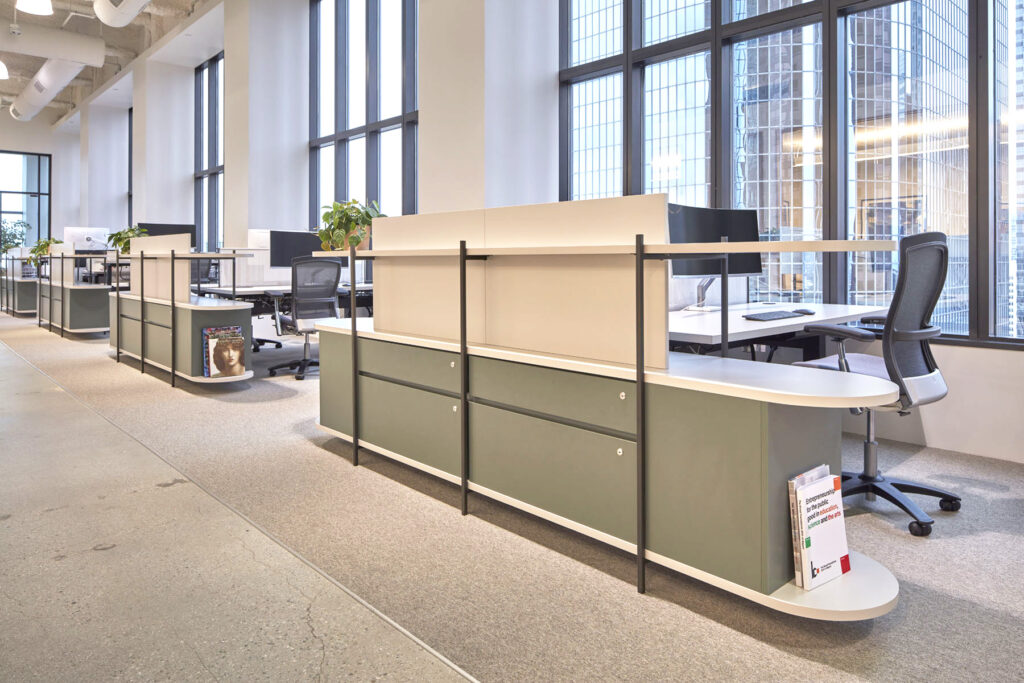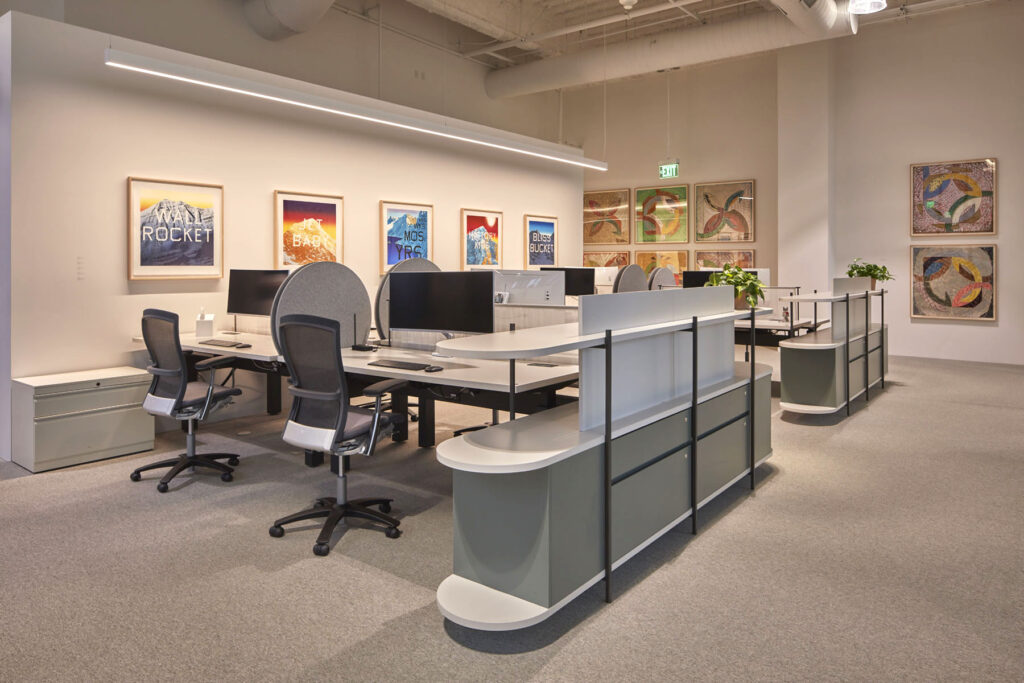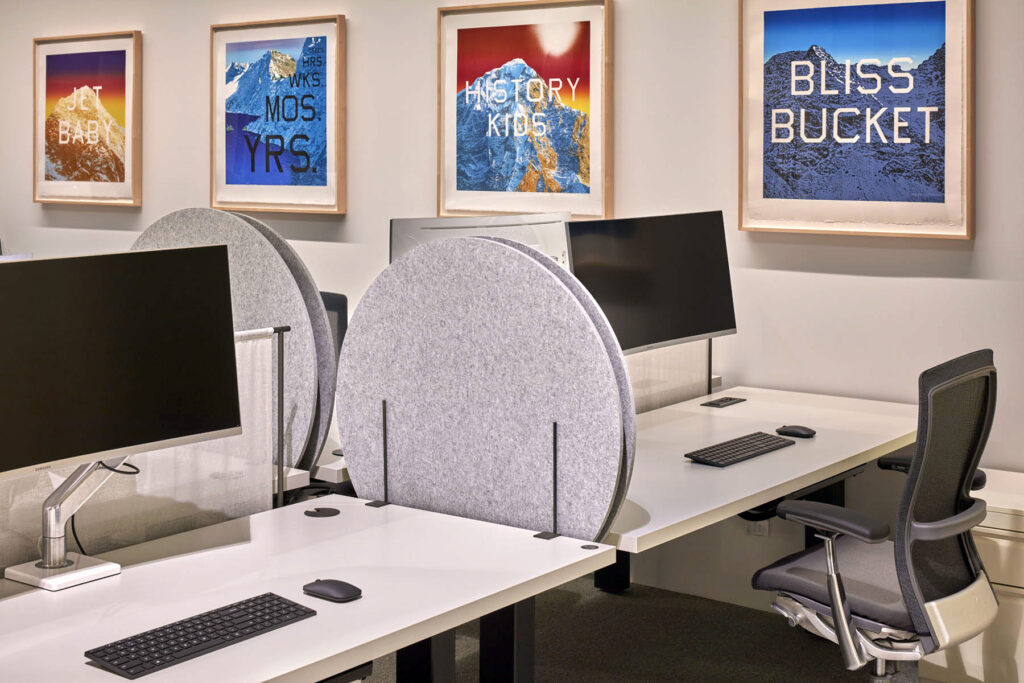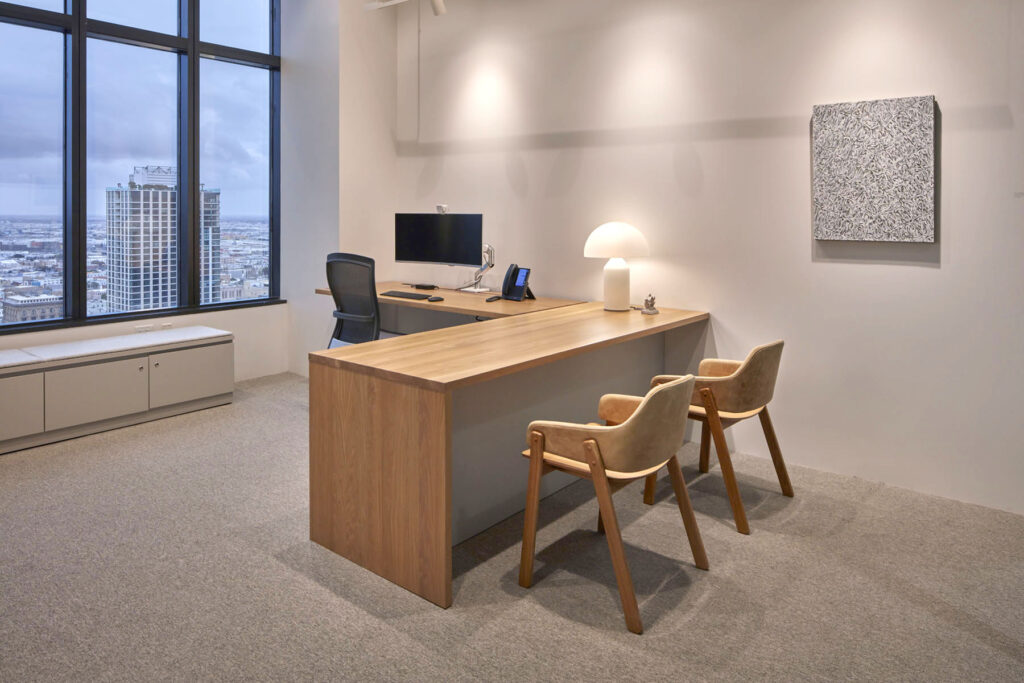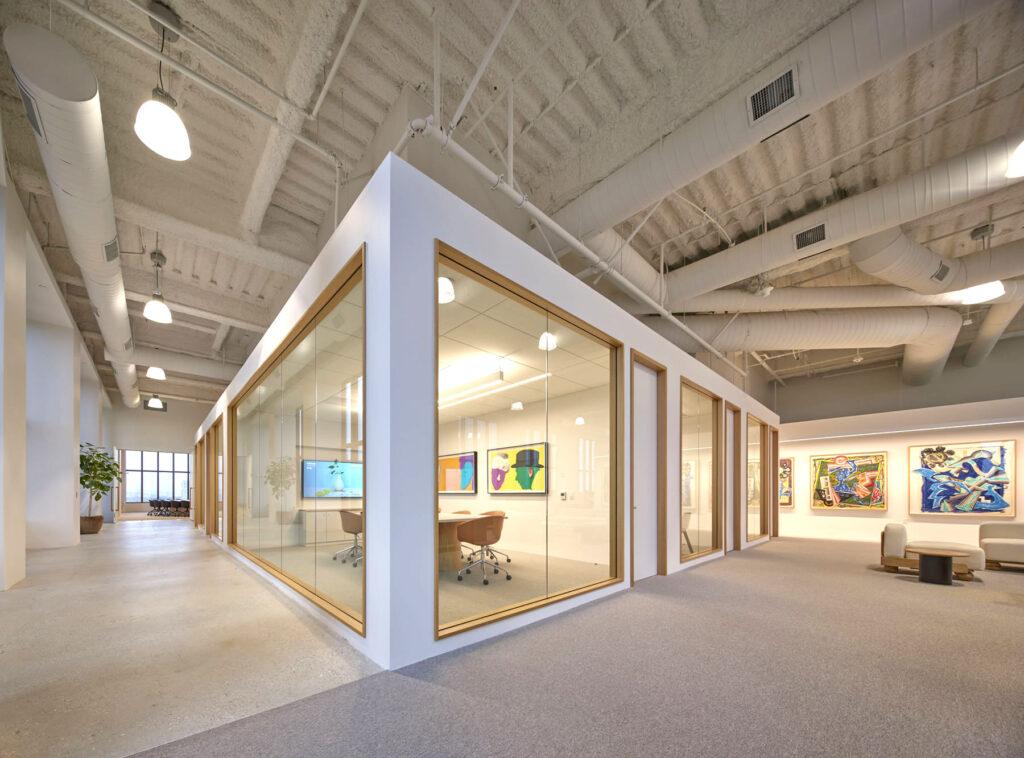 Architect: ShubinDonaldson
Interior Designer: SETSTUDIO
General Contractor: Sierra Pacific Constructors
Photographer: Fotoworks / Benny Chan