In collaboration with design firm FullBRANCH, MASHstudios developed furniture for the headquarters of a pioneering force in wellness and beauty brand development. We designed office furniture to enhance the company's creative environment, seamlessly integrating functionality and aesthetics to amplify innovation and collaboration. Working closely with the architecture firm, we optimized the project's lead time and budget by combining custom furniture design with standard MASHstudio products.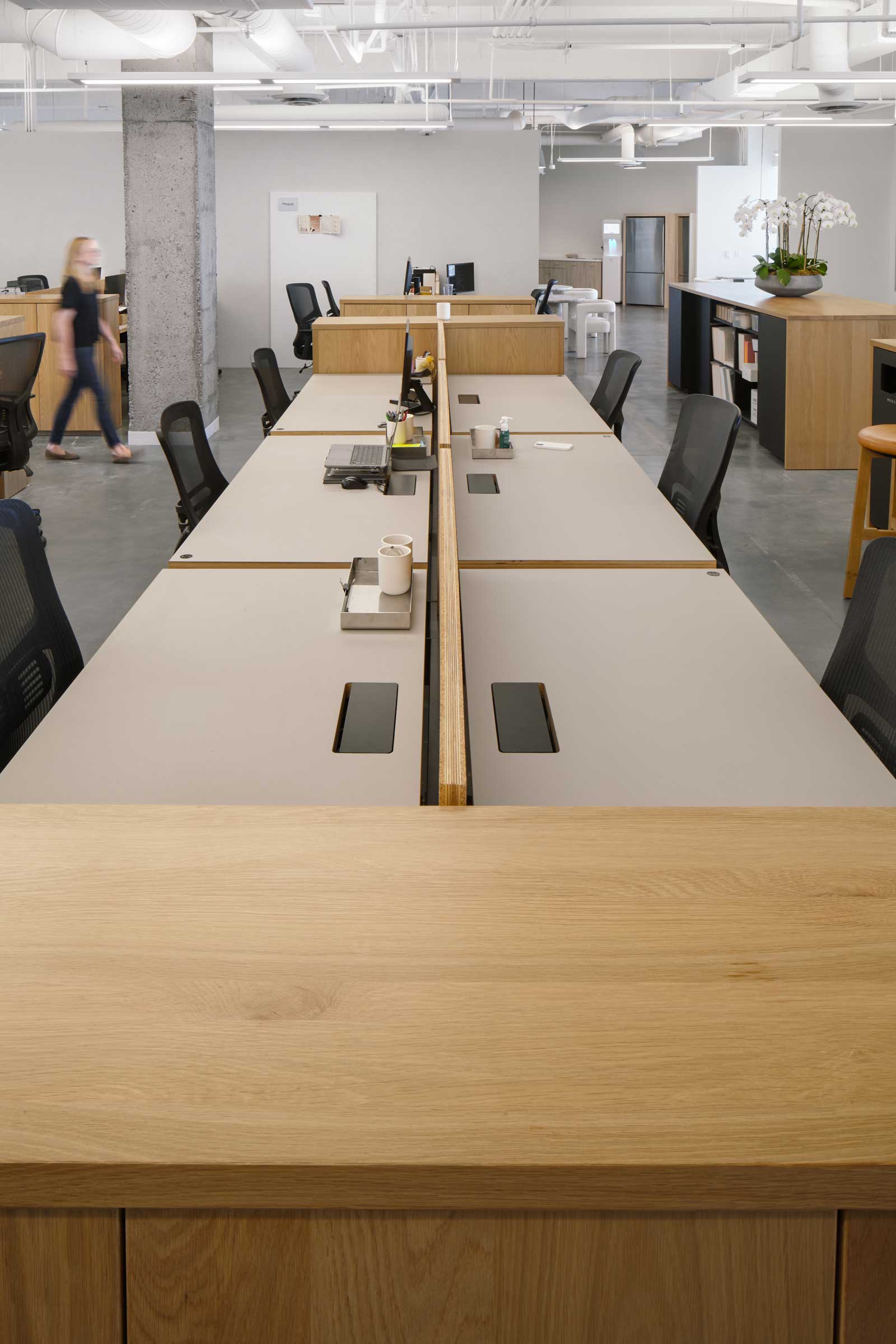 Workstations for Agile Workflow
MASHstudio's Flo Desks formed the backbone for the open workspace, streamlining the design and engineering process by leveraging one of our signature products. Part of our Readymade standard product line, the Flo Desk is an intuitive sit-stand workstation that encourages healthier work habits. Convenient desk outlets are seamlessly accessible via a flip lid, while cork divider panels between adjacent desks create visual and acoustic privacy.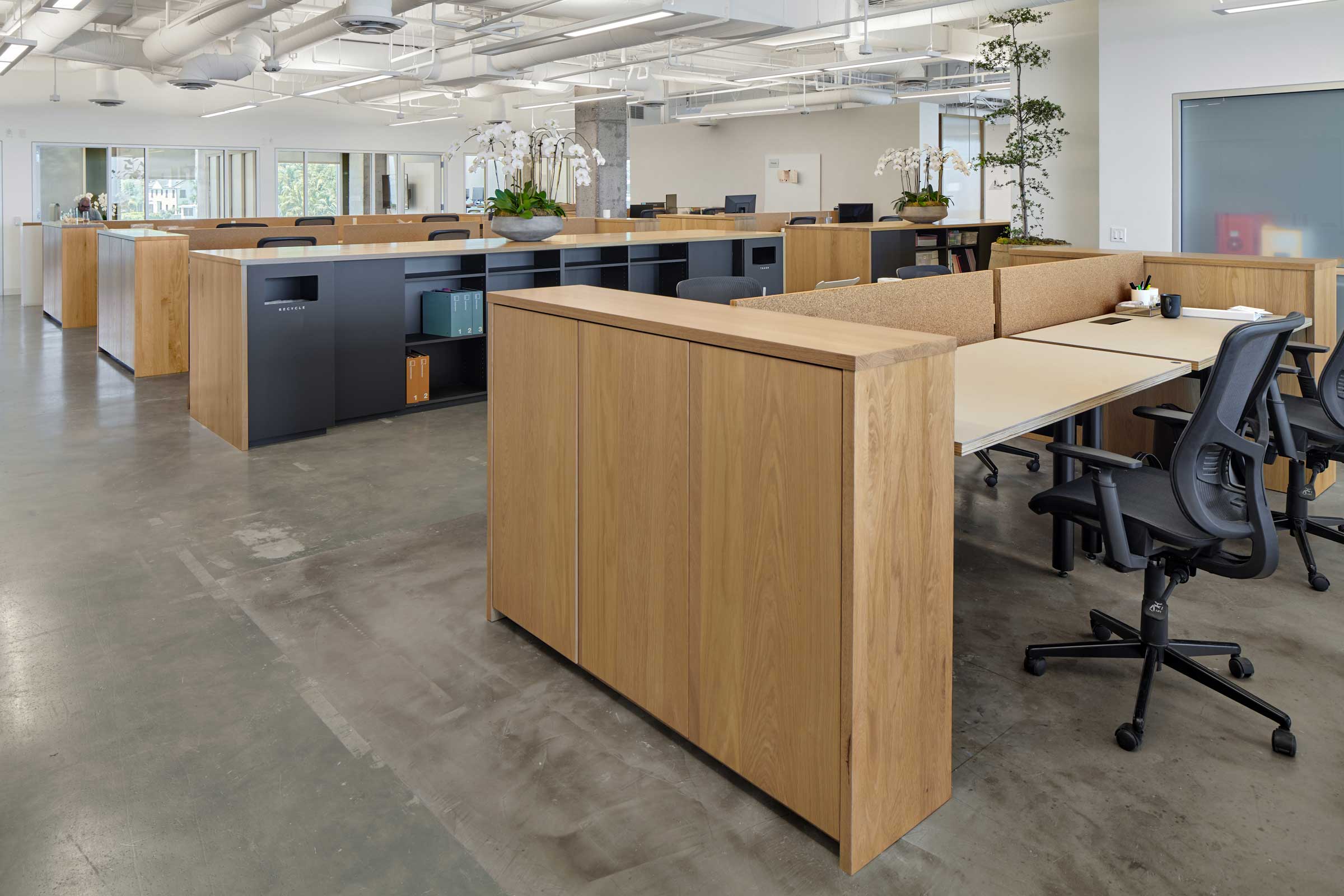 Tailored Storage Solutions for Efficiency
To facilitate the team's productivity and innovation, we made bespoke end storage cabinets to safeguard personal items and valuable product samples. In addition, the cabinet tops offer supplementary space for showcasing new product lines in progress. Constructed from durable white oak, we designed these end storage units to harmonize with the workspace's overarching aesthetic.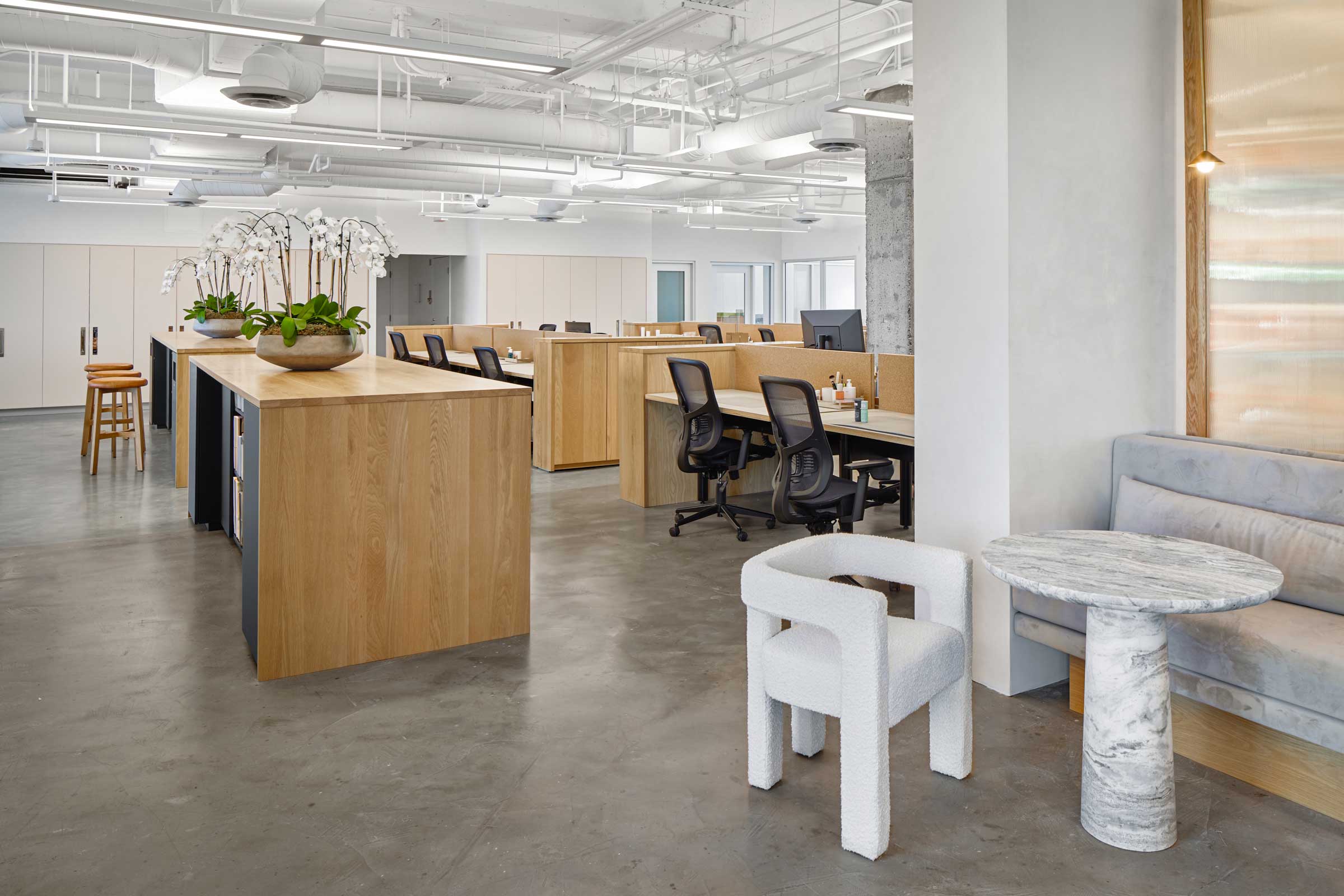 Strategic Custom Storage Islands
Custom storage islands were central to the office's overall design, strategically placed to serve as efficient storage units while doubling as versatile meeting tables. Since the client frequently handles liquids in delicate bottles, we used soft touch laminate on the exterior body as well as water-resistant black laminate interior faces. These islands seamlessly merge practicality with contemporary design, boasting built-in trash recesses and ample shelving, a perfect fusion of aesthetics and functionality central to this workplace project.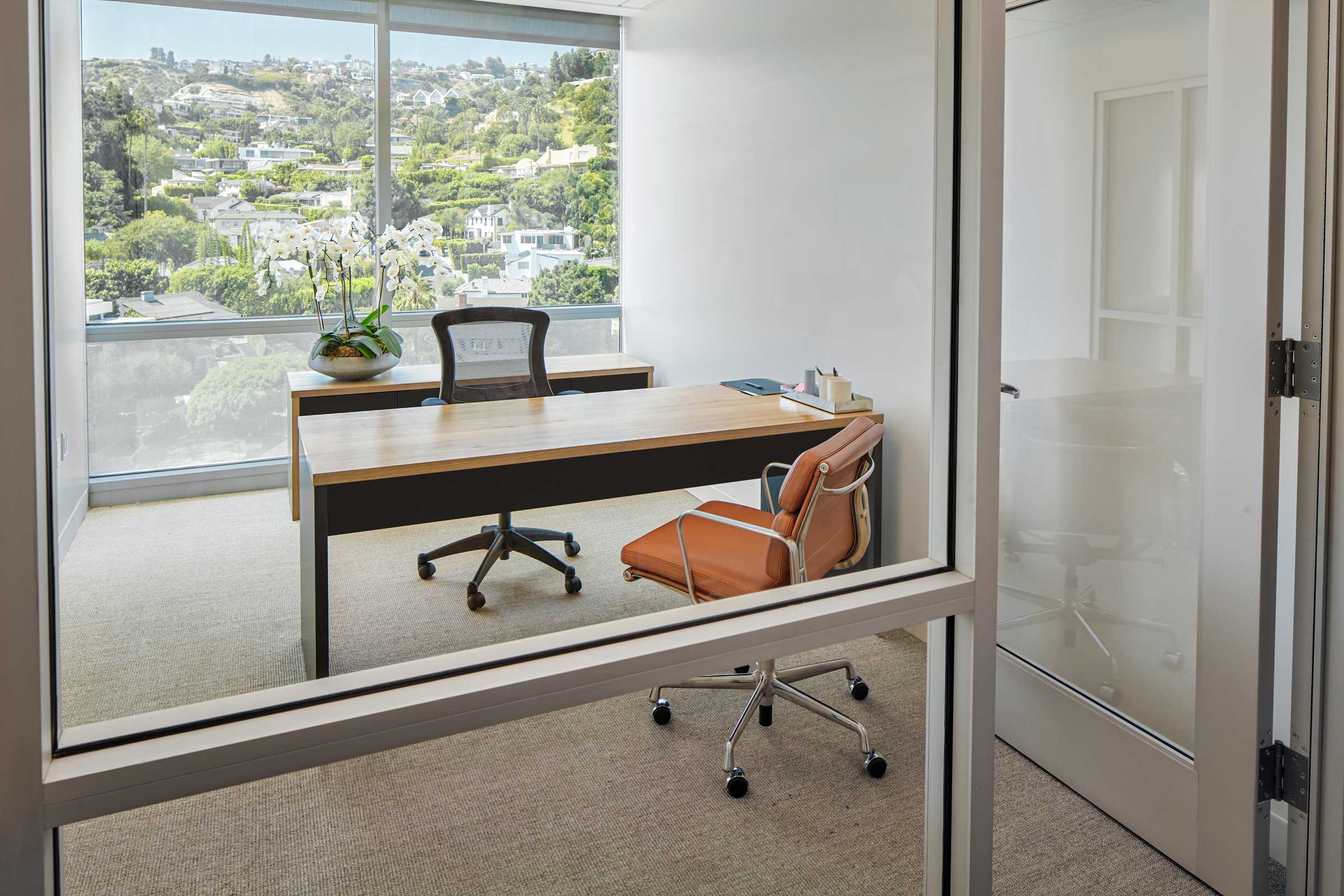 Private Offices: Fusion of Elegance and Practicality
In addition, we crafted desks and credenzas tailored for the private offices, aligning them with the office's overarching style to elevate professionalism and productivity. These private offices boast a minimalist, functional, and elegant design, featuring white oak tops complemented by sleek black laminate surfaces.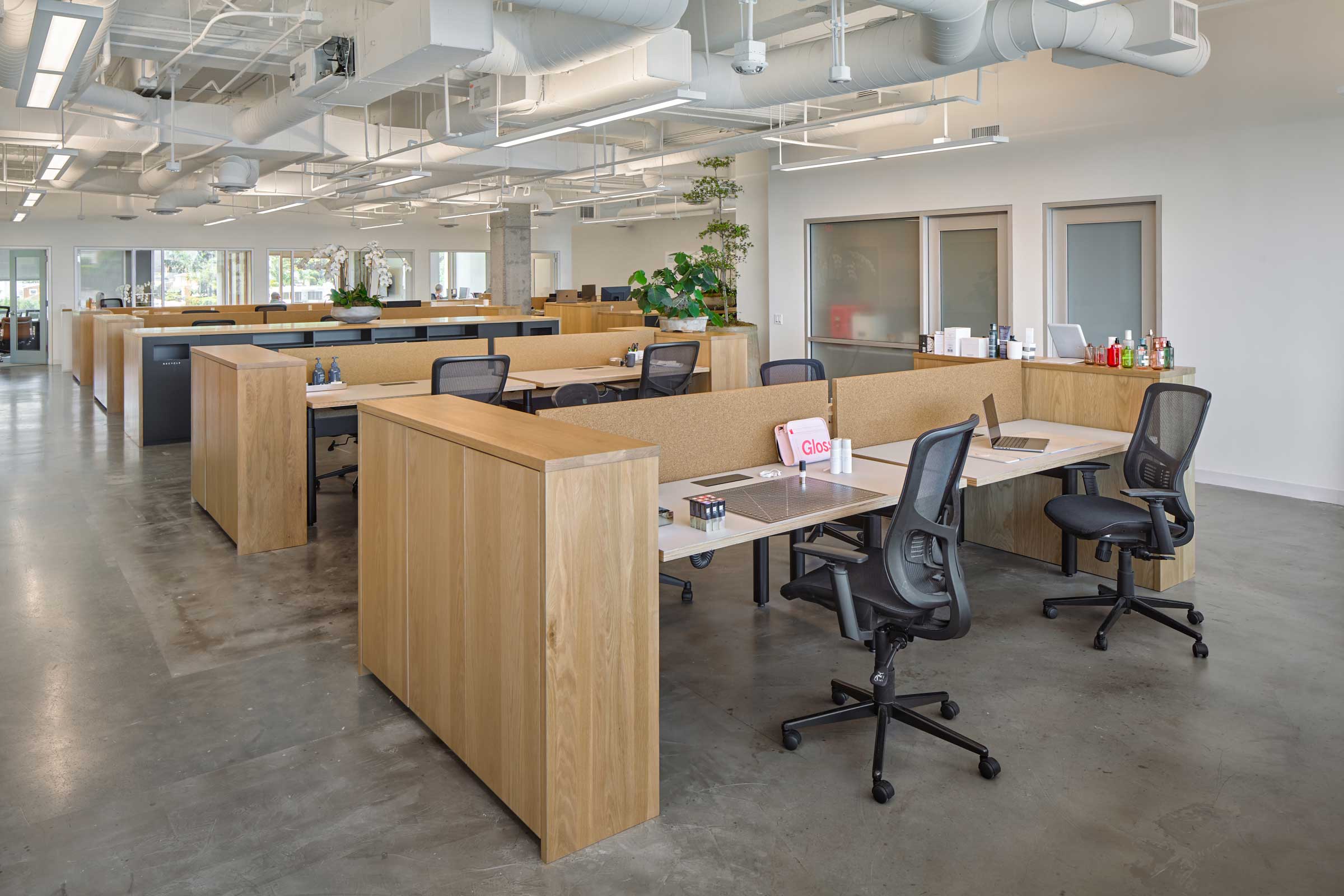 Unifying Standard and Custom Designs
The harmonious blend of MASHstudios' standard offerings, using the Flo Desk with tailor-made storage solutions, optimized the project's efficiency and timeline while catering to a company's precise needs. The result is a testament to the capacity of thoughtful design to help drive operational innovation, assisting the company's team as it develops and launches compelling new wellness and beauty brands.
Design: FullBRANCH
Photography: Doug Frerichs